THERE'S ALWAYS SOMETHING NEW AT VITALITY !
Join us! For an Interactive Zoom Event Hosted by Becca, 'Aromatherapy at Home and in Practice'
Join us June 16th 2021 for an informative and interactive zoom presentation all about aromatherapy.  Hosted by Becca, Vitality Spa + Clinic.
1.5 hours duration, from 7p.m. Priced at $50 per person, including course materials & handouts. 
Becca is also available from 1-4 pm in store on Friday 4th June for an Aromatherapy Demo! 

Learn more, guided by Becca at Vitality
Aromatherapy is becoming more and more popular as families search for healthier ways to care for their families. Essential oils are a wonderful, natural way that we can utilize some of natures most beautiful remedies to enhance our wellbeing.
While essential oils are natural plant substances, caution is needed. These botanical oils are complex and are made up of very volatile and sometimes potent compounds that should be regarded with care and respect. This seminar will cover a few basics for you to follow so that you can continue to care for your family safely and effectively using essential oils.
You'll be in good hands, Becca is a Certified Herbalist and Clinical Master Aromatherapist (C.C.M.A designation) and is also a professional member of the AIA ( Alliance of International Aromatherapists).
DR NICOLE CZORNOHALAN - NEW TO KITIMAT, SHOCKWAVE THERAPY IS NOW OFFERED AT VITALITY
Shockwave Therapy can be used to treat chronic pain when traditional chiropractic or physiotherapy treatments have not delivered improvements. Shockwave therapy is a non-invasive treatment that involves creating a series of low energy acoustic wave pulsations that are directly applied to an injury through a person's skin via a gel medium. Generated shockwaves have proven successful in a number of scientific studies for the treatment of chronic conditions. Shockwave therapy is its own treatment for a lingering injury, or pain resulting from illness. You don't need painkillers with it - the purpose of the therapy is to trigger the body's own natural healing response. Many people report that their pain is reduced and mobility improved after the first treatment.
How does shockwave therapy work?Shockwave therapy is used in the treatment of many musculoskeletal conditions, primarily those involving connective tissues such as ligaments and tendons.Shockwave therapy offers Doctors another tool for stubborn, chronic tendinopathy. There are some tendon conditions that just don't seem to respond to traditional forms of treatment. Shockwave therapy is most suited for people who have chronic (ie greater than six weeks) tendinopathies (commonly referred to as tendinitis) which haven't responded to other treatment; these include: tennis elbow, achilles, rotator cuff, plantar fasciitis, jumpers knee, calcific tendinitis of the shoulder. These could be as a result of sport, overuse, or repetitive strain.You will be assessed by Dr Nicole at your first visit to confirm that you are an appropriate candidate for shockwave therapy. Dr Nicole will ensure you are educated about your condition and what you can do in conjunction with treatment - activity modification, specific exercises, assessing any other contributing issues such as posture, tightness/weakness of other muscle groups etc. Shockwave treatment is usually done once a week for 3-6 weeks, depending on results. The treatment itself can cause mild discomfort, but it only last 4-5 minutes, and the intensity can be adjusted to keep it comfortable. Shockwave therapy has shown to effectively treat the following conditions:Feet - heel spurs, plantar fasciitis, Achilles tendonitisElbow – tennis and golfers elbowShoulder - calcific tendinosis of rotator cuff musclesKnee - patellar tendonitisHip – bursitisLower leg - shin splintsUpper leg - Iliotibial band friction syndromeBack pain - lumbar and cervical spine regions and chronic muscular painSome of the benefits of shockwave therapy treatment:Shockwave therapy has excellent cost/effectiveness ratioNon-invasive solution for chronic pain in your shoulder, back, heel, knee or elbowNo anesthesia required, no drugsLimited side effectsMain fields of application: orthopedics, rehabilitation, and sport medicineNew research shows that it can have a positive affect on acute pain After the treatment, you may experience temporary soreness, tenderness or swelling for a few days following the procedure, as the shockwaves stimulate an inflammatory response. But this is the body healing itself naturally. It's important not to take any anti-inflammatory medication after treatment, which may slow down the results. Upon completion of your treatment you can return to most regular activities almost immediately.

The latest Storz technology at Vitality
Rebecca's Birthday Month Special Offer Facial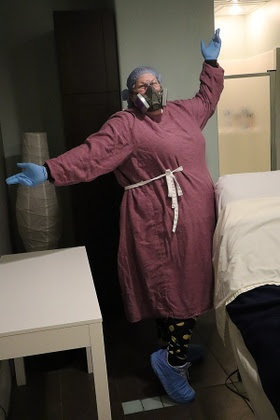 40 % off Footlogix and Gehwol products, with every completed Medical Footcare service provided by Rebecca Klassen LPN during the month of JUNE!
In- spa and outreach appointments are available..& please check your extended benefits as Medical Footcare is often included. Call 250 632 2289 to book in during June only.
Father's Day 20 June 2021
Say thank you to your Papa/Dad, or the father figure in your life. Buy a Gift Father's Day Card for Dad for a Deep Tissue, Hot Stone Massage or Aromatherapy Massage & let Dad book in with us, to suit his schedule, before 31 August.
Dad also has a chance to win a pampering overnight stay at the MStar Hotel, and all Dad's will also receive a complimentary gift from Vitality! 
Let's spoil our Kitimat Dad's!
Financing Your Treatment with Medicard
Medicard makes it easy for you to finance your Medi- Spa or Esthetic treatments at Vitality, Kitimat.
EASY MONTHLY PAYMENTS: Choose your own terms. From 6 months to 6 years!
COMPETITIVE INTEREST RATES: Rates are based on your credit history and score. Rates start at 7.95%.
NO MINIMUMS: Finance as much or as little as you need. You can finance a portion or the complete procedure cost.
HIGH APPROVALS
NO DOWN PAYMENT
NO COLLATERAL
OPEN LOANS: You can pay your loan early without any penalties.
MEDICARD IS OPEN 7 DAYS/WEEK: For immediate assistance call Medicard at +1 (888)689-9862
Apply online here:
https://www.medicard.com/provider-profile.php?id=16655
In December 2020 Vitality signed up to be part of Buy Local BC
Learn more here:
Support Local BC provides a place for communities and businesses throughout the province to support each other. It connects all regions and is a platform where you can show your love for your favourite local businesses by purchasing gift cards for future use. You can choose businesses in your own community or you can purchase gift cards from other communities to give a family member or friend. Gift certificates are available in $10, $25, $50 and $100 denominations
Vitality's Gemstone Facial
Fall in to luminous skin. Prepare to be pampered by Vitality's New Eminence Gemstone Facial. Polishing and deeply hydrating your skin, for a balanced, energized and glowing complexion.
A 1 hour facial experience using the new Eminence gemstone products (more info below) including a gentle arm massage using Eminences' Apricot Massage Oil, paraffin wrap treatment on your hands, while heating pads are applied to your feet.
A special offer, this one hour treatment will be priced at $ 105 + taxes
Gift certificates available, book with Morgan at Vitality
The Eminence Organics Charcoal Exfoliating Gel Cleanser has been formulated with charcoal, malachite gemstones and blue matcha to create this purifying cleanser. This cleanser transforms from a gel to a soft exfoliating lather to gently wash away the build-up of dirt, help balance oil production and reduce the appearance of pores. Another key ingredient to this gel cleanser is peppermint, which leaves the skin feeling cool and refreshed. The Eminence Organics Turmeric Energizing Treatment has been formulated with turmeric, citrine gemstones and zeolite to create this exciting powder-to-mousse treatment. This product is essentially a 3-in-1 flash facial – a stimulant, an exfoliant and a masque, all in one luxurious product. The element of spicy paprika will instantly warm the skin, opening up your pores and boosting circulation to reveal a silky, luminous and energized complexion. Citrine gemstones are the stone of light and happiness, turning negative energy into positive. The Eminence Organics Camellia Glow Solid Face Oil has been blended with luxurious botanical oils such as camellia, hemp seed and marula to create this uplifting facial oil. Applied to the skin using a cooled jade facial roller this blend has been formulated to replenish the skin with vitamins, antioxidants and essential fatty acids to aid in collagen production and cell turnover, leaving your skin feeling well-nourished, supple and revealing its healthiest glow. The elements of the tourmaline gemstone will provide you with a sense of peace and serenity.